Tri-county Bible Institute
The Tri-County Bible Institute is part of the SBC's Seminary Extension ministry, whose mission of Seminary Extension is to provide theological education and ministry training of excellent quality to church leaders and members where they live.
As Tri-County works to complete our mission, we are equipping today's busy Christian ministers and lay people with theological knowledge, ministry skills and competencies. That means delivering Biblical, Theological, and Practical education to Christians wherever they live. Study options include studying with friends in local study groups and through correspondence. That means that Seminary Extension courses are available to just about everyone.
There is an old adage that states the following: "If a hungry man is given a fish, he eats a meal; but if he is taught how to fish, he eats for the rest of life." Many students take Seminary Extension courses because they simply enjoy the opportunity to learn.
But these courses do much more. They provide students with the tools and skills to feed themselves and others. We would encourage every Christian to take the time to equip themselves for ministry, because in doing so, they will be able to minister both inside and outside the church for life.
These courses are ideally suited for persons who have completed at least their high school diploma but have been unable to continue their education. Classes are taught on Monday evenings at TCBA's office in Nixa and scholarships are available on a limited basis for members of TCBA churches.
For information about Tri-County Bible Institute courses, call TCBA at (417) 725-8825.
Seminary Extension is a biblical, affordable and effective means for equipping God's people. It is also available and convenient. So why wait?
Winter-Spring Semester will begin January 9
, 2023
6:30-8:00 pm at
Tri-County Baptist Association's offices,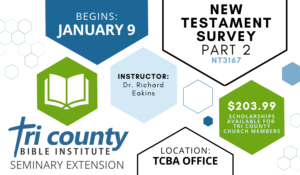 New Testament Survey – Part 2 (NT 3167)
Description: A survey of all the epistles of the New Testament, from Romans through Revelation. Included are the general epistles of the apostle Paul, his pastoral epistles, and the general epistles.

Textbook: The New Testament, Its Background and Message, 2nd Ed. Thomas D. Lea and David Alan Black

Instructor: Dr. Richard Eakins (D. Min, Midwestern Baptist Theological Seminary; pastor, First Baptist Church Chadwick)
Cost: $203.99 (includes textbook) Scholarships available for members of Tri-County churches.
Click here to view and download the Tri County Seminary Extension Scholarship application.
Please forward all documents to: TCBA, PO Box 370 Nixa MO 65714
Important links: