The Grove Amphitheater at Baptist Hill Assembly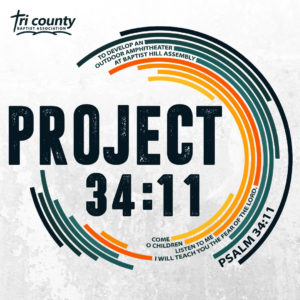 Come, O children, listen to me. I will teach you the fear of the Lord. Psalm 34:11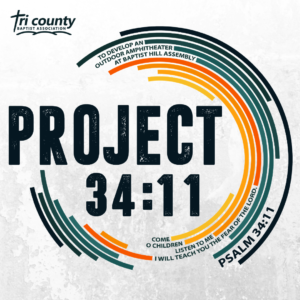 What is Baptist Hill Assembly?
Baptist Hill Assembly is a year-round Christian campground and retreat center set in the rich timber Ozarks hills 30 miles west of Springfield, Missouri, near the town of Mt. Vernon. Baptist Hill has seen thousands come to know Christ as Savior and deepen their walk with Him since its founding over a century ago.
Baptist Hill's facilities include bunk houses and motel-type lodging for guests, RV park, dining hall, a large worship center and teaching pavilions. Its recreational facilities include a swimming pool and water slide, ball field, basketball court and hiking trails.
Every Summer, children and youth from all over southwest Missouri make their way to "the Hill" for fun-filled days designed to strengthen body and soul: outdoor activities like swimming, archery and canoeing; and Spirit-building experiences of worship, Bible study and missions education.
In the Fall, Winter and Spring, senior adults, college students, and church groups make the Hill their preferred place to deepen their fellowship and to grow closer to God.
Many have sensed it, and many have said it: "I feel God in this place."
Why build an amphitheater for Baptist Hill?
Central to everything that happens at the Hill is worship. The Covid-19 crisis has placed severe limitations on how churches can use the facilities at the Hill. An amphitheater will create a space that will provide new possibilities for outdoor worship, Bible studies, and Christian concerts and events.
Why should Tri-County do it?
The eight southwest Missouri Baptist Associations, and the churches that comprise them, are at the heart of Baptist Hill. For decades, many Tri-County churches have made the Hill home for their summer camp experiences.
Hundreds of people in Tri-County churches took their first steps with Jesus as a result of summer camp at Baptist Hill. Building an amphitheater is a way to give back to the Lord for all He's done for us, and to pay the blessing forward in a way that will benefit thousands far into the future.
What can I do?
Pray it: that God will do through us beyond what we can imagine, for His honor and glory, and for the people whose lives will be changed!
Tell it: let your friends know at church and on social media about the need, the project, and the vision—children, youth and adults coming to Christ through something we've built together!
Give it: give an offering to help the vision become reality—and invite friends to do the same!
Build it: we need skilled and unskilled labor from across the 56 churches in Christian, Stone and Taney County.
Celebrate it: help us plan, organize and hold a dedication service.
September 2021 Update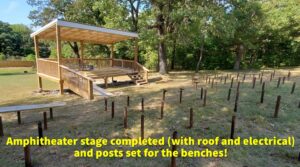 Imagine a place where children, young people and adults can worship God in a beautiful outdoor setting–that's the worship amphitheater at Baptist Hill Assembly. Summer camps, church retreats, and other Christian groups will turn this hillside into a place of praise unto the King of Kings, all because God's people gave or lent a hand.
After making good progress in the Spring, work on the amphitheater paused during the summer camp season. We also lament the passing in July of Mrs. Mary Reynolds, wife of Pastor Dennis Reynolds our project leader.
Work resumed in September. The posts for the benches were set, and we're thankful for a Campers on Mission group that completed the stage, with a roof, electrical outlets and lighting. God has blessed and touched people's hearts to give to the project, both by giving financially and contributing "elbow grease."
Next steps are
1) welding angle irons on the posts
2) cutting the boards for the benches to size and
3) attaching the boards to the angle irons with carriage bolts.
After that, we'll do some erosion control work.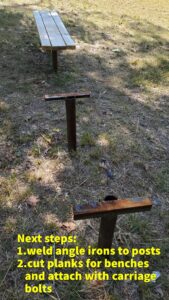 If you have skills in welding or are willing to help do whatever else needs to be done (such as cutting or carrying boards, attaching them with carriage bolts, spreading gravel–or maybe you have the "gift of supervision"!) contact Phillip Shuford by email or call (417) 725-8825.
For more information, contact us at (417) 725-8825 or email Phillip Shuford at phillip@tcsba.com.