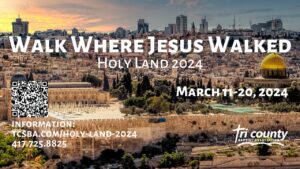 Tour Dates: March 11-20, 2024
click HERE to download trip brochure with itinerary, cost and registration information
Can you help get the word out by showing this picture as an announcement before your church services? Right click the image, choose "save as" and paste the image onto your desktop. The file can be uploaded to the program you use for announcement slides.
Trip Coordinator: Velma Merritt (North Nixa Baptist Church)
Trip Host: Dr. Phillip Shuford, Director of Missions, Tri-County Baptist Association
What is the cost of the trip? $4,555 from Dallas (based on a minimum of 20 participants)
I

s a deposit required?

$500 per person
Are meals included in the cost? Breakfast and dinner are included. Lunch is on your own (approximately $15/day)
What other expenses should I plan for? Minimum of fifty $1 bills (for water on bus)
Will I need to exchange currency. No. Visa and MasterCard are widely accepted (NOT Discover Card, travelers checks or personal checks.)
Is cell phone service widely available? Check with your carrier.
Is electrical service 110 volts? No. Electricity in Israel is 230 Volts, If you travel to Israel with a device that does not accept 230 Volts at 50 Hertz, you will need a voltage converter.
Do you recommend trip insurance? Yes! See the trip brochure for more information.
What if I have to cancel? See the trip brochure for more information.
Is there a minimum age? 12 years old.
What clothing should I pack? Comfortable clothes and shoes (you will be walking a lot)
Is it safe? Velma Merritt says, "I've been to Israel many times and have never felt unsafe."
Sea of Galilee
Dan
Banias (Caesarea Philippi)
Mount Hermon
Golan Heights
Chorazin
Magdala
Nof Ginosar
Capernaum
Tabgha
Mount of Beatitudes
Bet Shean
Jordan River
Cana of Galilee
Nazareth
Nazareth Village
Mount of the Precipice
Valley of Jezreel
Mt. Carmel
Caesarea Maritima
Mt. Scopus
Chapel of the Ascension
Passion walk
Dominus Flevit (our Lord weeps)
Golden Gate
Gethsemane
Church of All Nations
Old City
Western Wall
Jerusalem Archaeological Park
Southern Temple Steps
Temple Mount
Dome of the Rock
Shepherd's Fields
Bethlehem
Church of the Nativity
Cave of Jerome
Al-Aqsa Mosque (on Temple Mount)
Pools of Bethesda
Pilate's Judgment Hall
Chapel of Flagellation
Via Dolorosa (way of the cross)
Church of Holy Sepulcher
Cardo Maximo
Peter of Gallicantu
Garden Tomb
Masada
Dead Sea (swim)
Ein Gedi
Qumran
Jericho
Elisha's Spring
Rabbi Tunnel
Temple Mount Sifting Project
Yad Vashem (Holocaust museum)
Drive by many area sites